Pool Management Contracts
Leave your pool problems to Clarity Pool Management when you sign a management contract for commercial pools. As Licensed Pool Operators with more than 10 years of experience in the Upstate, we are up-to-date on all DHEC rules and regulations necessary to keep your facility operating and running safely. Contracts can be adapted to meet every customer's need, whether you require service three, five, or six days a week.
Pool Repairs/Renovations
Pool renovations and repairs should be left to professionals with plenty of experience. Problems range from neglected and outdated pump rooms to replacing a valve or motor. Pump room renovations, resurfacing, and replacing tiles are just a few repairs and renovations we can do. Contact us today and receive a quote within 24 hours.
Pool Safety Cover Installation
Clarity Pool Management installs Latham Premier safety covers. Properly covering your commercial pool at the end of the season will keep debris, people and pests from entering.
Full Service Maintenance Contracts
Our contracts include the following:
DHEC regulation compliance
Licensed Pool Operator signatures
Clean and safe environment
Bathroom cleaning and supplies
Decks free of debris
Filtration optimization
Waterline tile cleaning
Skimmers emptied
Trash emptied, liners provided
Pool vacuumed
Furniture clean and straight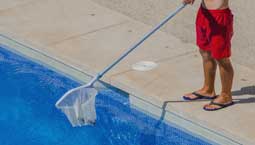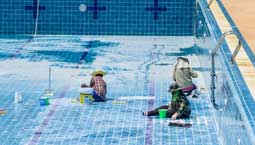 Not sure where to start? We can get you headed in the right direction.